A Gluten-Free Menu in Times Square & the Theater District is a Celiacs Delight!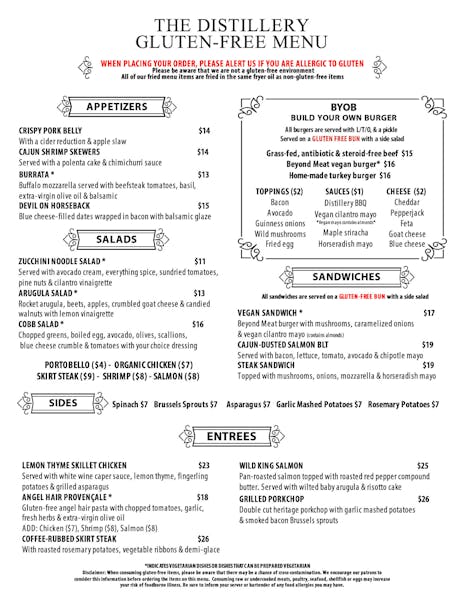 Medical experts have long recognized Celiac disease – a condition in which the body reacts to gluten in a way that damages the intestine. It is especially prevalent in people of Irish descent, and affects approximately 1% of the global population. Furthermore, roughly six times that number of people have a sensitivity to gluten, even though they test negative for Celiac.
Dietician Manuel Villacorta explains that sensitivity to gluten runs the full spectrum, from those who appear to be totally unaffected by it to those who are completely intolerant of it. Most people fall somewhere in between. His advice? He believes that everyone should eat a widely varied diet, in which you get your carbs from many different sources, and not overload on gluten.
He notes that it can be quite difficult to find gluten-free foods, particularly ones that are not highly processed.
Not at The Distillery. We offer a gluten-free menu that features a rich array of fresh, local foods, including delicacies such as Cajun Shrimp Skewers, Crispy Pork Belly, three mouth-watering entree salads, and our full array of sandwiches, including our Beyond Meat Vegan Burger, on gluten-free buns. Our brunch menu also features mostly gluten-free fare.
We also offer a menu of world-class cocktails, wines and ciders, including Crispin on tap.
As you'll see, eating gluten-free does not mean you won't eat well. For football fans, we also offer NFL Sunday Ticket! All games, all season long.
Come enjoy this rich array of gluten-free food at The Distillery, the best NYC restaurant for Celiacs!