Gin Society Nights at The Distillery!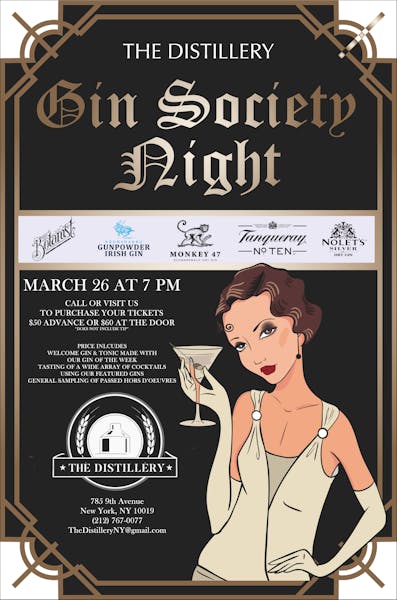 The Distillery has quickly become known as one of the best gin bars in NYC. While we offer a wide array of cocktails and craft beers on tap, it is gin for which we are quickly becoming best known.
For this reason, we host a quarterly get-together of gin-minded enthusiasts that showcases (you guessed it.....) gin, in all its various wonderful forms.
From small batch to premium brands, new gins to interactive experiences, we will be flinging open the doors of The Distillery to some of our favorite gin producers.
Marvel at the skills of our visiting guests who will reveal secrets of the origins of their gins.
During each event, you will be welcome with a Gin & Tonic made with our featured gin. You will then enjoy a tasting of a wide array of cocktails, selected by the craftsmen who created the gin and expertly prepared by our mixologists.
You will also enjoy a generous sampling of passed hors d'oeuvres specially selected for the occasion by our fabulous chef.
Our next Gin Event will be held on Monday, March 26, at 7 pm. Click here to purchase a ticket!
Among the gins that will be featured:
Drumshambo Gunpowder Irish Gin is an Irish gin from made with juniper, angelica, orris, caraway, coriander, meadowsweet, cardamom and star anise, as well as vapour infused oriental lemon and lime, fresh grapefruit and gunpowder tea! It's produced at The Shed distillery, in deepest rural Ireland, on the edge of a lake in Drumshanbo, Co. Leitrim.
Monkey 47 is a batch distilled and handcrafted Schwarzwald Dry Gin from the Black Forest of Germany that fuses British traditions, the exoticism of India, and the purity of the Black Forest with masterly craftmanship.
The Botanist Gin is a progressive exploration of the botanical heritage of the Isle of Islay, Scotland.
22 hand-foraged local botanicals delicately augment nine berries, barks, seeds and peels during an achingly slow distillation.
This first and only Islay Dry Gin is a rare expression of the heart and soul of its remote Scottish island home.
Nolet Distllery was founded in 1691 in Schiedam, Holland, and survived throughout the French Revolution and two World Wars.
The distillery has been exporting spirits to the United States since the late 19th century.
Nolet's Silver Gin is a refreshing floral and fruit-forward gin that features a unique combination of botanicals never before used in gin.
I
Tanqueray No. Ten is small batch gin crafted using fresh fruits. It is the only gin to be inducted into the San Francisco World Spirits Competition Hall of Fame.
Click here to reserve your place now for just $50 in advance. If spaces remain available, they will be available for purchase on the night of each event for $60.