Macy's Thanksgiving Parade Balloon Inflation 2019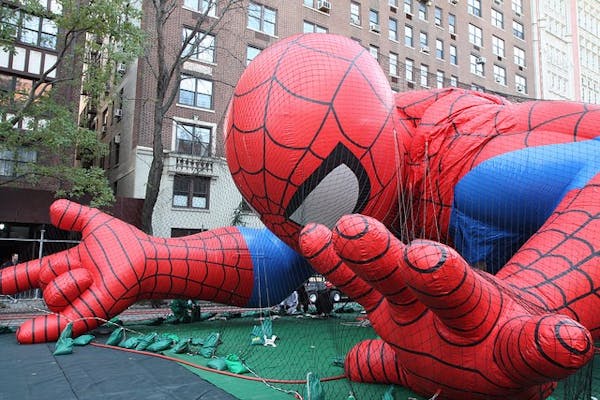 Are you planning to visit NYC for the inflation of the Thanksgiving Day Parade balloons on Thanksgiving Eve?
We have some tips for you.
The Thanksgiving Parade balloons are inflated on 79th and 81st Streets between Central Park West and Columbus Avenue. The balloons are set out around 3 pm, and begin the inflation process around 6 pm. The area is closed to the public around 10 pm.
The 81st St station on the C Train is right in between the two blocks on which the balloons are inflated. However, it is very heavily used all day, and, while the NYPD does an extraordinary job of crowd control, using this station can still be quite a claustrophobic experience. Consider arriving in the area on the 1 train at 79th and Broadway, or the C train at 72nd St., and walking to the area.
Once you enter the line to view the balloons, you are essentially barricaded in for up to an hour, due to the large crowds. Nonetheless, it is a remarkable experience that every New Yorker or visitor should have at least once. All of the balloons are laying on their sides, looking like King Kong after he fell from the Empire State Building. Getting so up close and personal with the balloons provides a fresh perspective on them.
Before or after you visit the balloons, visit The Distillery for dinner. We're a family-friendly restaurant with a kids menu that means the little ones don't cost you an arm and a leg. Yet Mom and Dad still get to enjoy our superb dinner menu and learned why The Distillery has developed such a loyal following.
Better yet, if you come after seeing the balloons and show us a picture to prove it, we'll give you 10% off your check.
The Distillery is located on 9th Avenue, between 52nd & 53rd, one of the best restaurants near Times Square, Terminal 5, Broadway's theater district, Lincoln Center, and every major subway. We serve Happy Hour weekdays from 4 - 8 PM and Brunch weekends from 11 AM - 4 PM. We have handcrafted cocktails, an outstanding wine list, 24 craft beers on tap and food until 11 PM every night.
Our back room is perfect for parties, meetings, and private events year-round, with no room fee.
Call us at 212.767.0077 for reservations.