One of the best restaurants near the Neil Simon Theatre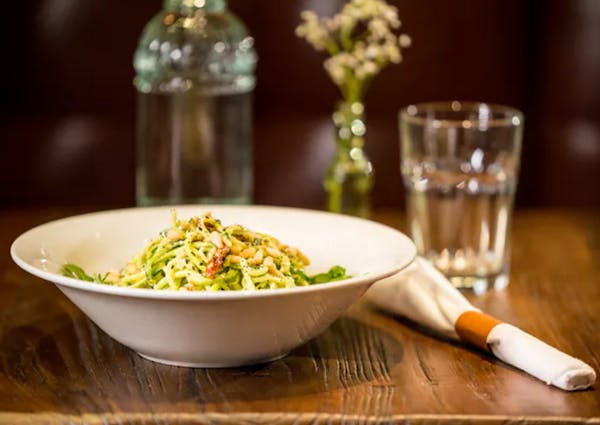 For 90 years, The Neil Simon Theatre has hosted some of Broadway's most legendary shows. Opened as The Alvin in 1927, it was renamed in 1983 to honor the prolific playwright, Neil Simon, whose works have regularly appeared there. In recent years, The Music Man and Hairspray graced the stage, and the current resident is the one and only Cats.
Just a few blocks away from The Neil Simon Theatre, you find The Distillery, which offers outstanding food, for a reasonable price, in an un-rushed atmosphere. Soon, you'll share the view of those who wrote the stellar reviews of The Distillery on Open Table, with phrases such as "great experience pre-theatre," "Service was efficient but not rushed," "a fabulous vegetarian option!," and "cocktail menu is amazing," "share-able appetizers" and "the Chicken and Waffles sandwich hit the spot! We are also a family friendly restaurant, with a kids menu and a comfortable atmosphere.
Best of all, visit The Distillery with a ticket stub from that day's show at The Neil Simon Theatre and we'll give you 10% off your check.
The Distillery is located on 9th Avenue, between 52nd & 53rd, close to Times Square, Terminal 5, Broadway's theater district, Lincoln Center, and every major subway. We serve Happy Hour weekdays from 4 - 8 PM and Brunch weekends from 11 AM - 4 PM. We have handcrafted cocktails, an outstanding wine list, 24 craft beers on tap and food until 2 AM every night.
Stop by for $10 Lunch Specials weekdays from 11 AM to 3 PM, and Weekend Brunch from 11 AM - 4 PM. Our back room is perfect for parties, meetings, and private events year-round, with no room fee.
Call us at 212.767.0077 for reservations.
Like us on Facebook and follow us on Twitter and Instagram for weekly updates.
See you soon at the best family friendly restaurant near Broadway!