The best brunch near Times Square and the Theater District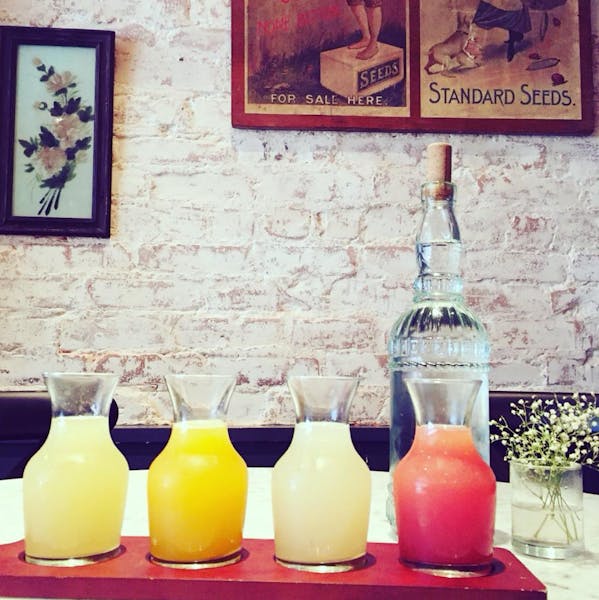 After a great night on the town, you look forward to a great meal the next day. In most great brunch spots in NYC, this means long waits, crowds, harried servers and a subpar experience.
Skip that scene. The Distillery offers a spectacular weekend brunch on Saturdays and Sundays between 11 a.m. and 4:00 p.m, with the stellar service that you've come to expect from our outstanding staff.
Call us at 212.767.0077 for reservations, or click here to reserve on OpenTable.
We truly have something for everyone: who else serves Steak & Eggs and Avocado Toast on the same brunch menu? The best NYC brunch menu includes:
The best traditional Irish breakfast in NYC: two eggs, black and white pudding, authentic Irish sausage, lean Irish bacon, beans, grilled tomato and sourdough toast.
Chicken and Waffles - buttermilk fried chicken thighs with beer waffles, maple bacon aioli & home fries
Baked Eggs Caprese - three eggs baked in a cast iron pan with tomato sauce, mozzarella, basil, parmesan, & served with rustic bread.
French Toast Bites - Bite-sized challah bread tossed with maple bourbon syrup. Served with caramel banana sauce & orange maple butter.
Avocado Toast - Mashed avocado on two sourdough toasts with bacon bits, goat cheese, cherry tomatoes, & a soft boiled egg.
Build Your Own Omelette and Build Your Own Platter.
and many more choices!
For a little hair of the dog, try a Mimosa Flight. Comprised of four generous pours mixed with Passion Fruit, Caramelized Pineapple, Blood Orange and Meyer Lemon, it produces a "just right" state of zen. We also offer 24 craft beers on tap, the best gin cocktails in NYC, and NFL Sunday Ticket!
So enjoy your night out, knowing exactly where to go when you wake up. Soon, you'll share the view of those who wrote these recent stellar reviews of The Distillery's brunch on Open Table:
We are also an upscale, family-friendly restaurant near Times Square, with a kids menu and a comfortable atmosphere.
The Distillery is located on 9th Avenue, between 52nd & 53rd, close to Times Square, Terminal 5, Broadway's theater district, Lincoln Center, and every major subway. We serve Happy Hour weekdays from 4 - 8 PM and Brunch weekends from 11 AM - 4 PM. We have handcrafted cocktails, an outstanding wine list, 24 craft beers on tap and food until 2 AM every night.
Stop by for $10 Lunch Specials weekdays from 11 AM to 3 PM, and Weekend Brunch from 11 AM - 4 PM. Our back room is perfect for parties, business meetings, and private events year-round, with no room fee.