The best family friendly restaurant near Times Square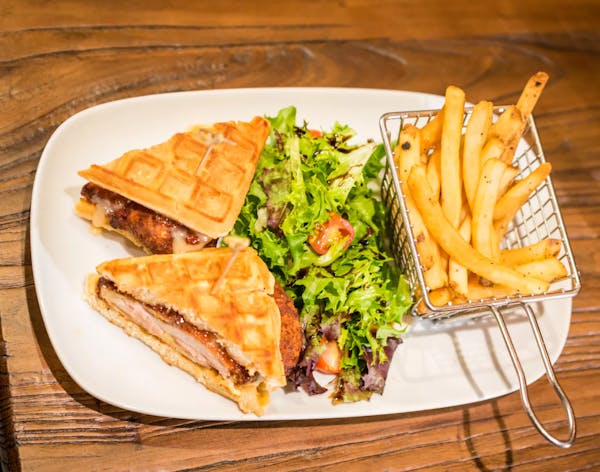 What do you look for in a family-friendly restaurant?
It's hard to try to find quality family-friendly restaurants in the New York City Theater District. The kids want over-priced, soulless chain restaurants that have lousy food, attract an unsavory crowd and are so cavernous that you may not even want your teen going to the bathroom alone.
At the other end of the spectrum, you can go to a five-star restaurant, but then it breaks your wallet and your kids are expected to remain quiet with their hands folded on their lap, and where's the fun in that?
The Distillery is the perfect, kid-friendly restaurant in the NYC theater district. Our kids' menu offers food they actually want to eat, at reasonable prices - no spending $27 per entree on your ten-year-old here. For the grown-ups, we offer a truly first-class dining experience, a stellar cocktail menu, the best craft beer list in NYC, and outstanding wine and other drinks as well. (read the stellar reviews of The Distillery on Open Table). And for every meal-time, you'll find plenty of families having a marvelous time, without upsetting any of the other diners. Best of all, if you're going to the theater, show us your tickets and we'll give you 10% off your check!
At 52nd & 9th Avenue, we are less than a 5-minute walk from many popular family shows. We're one of the best family-friendly restaurants near the Gershwin Theater, the August Wilson Theater, the Neil Simon Theater, the Broadway Theater, and the many shows at New World Stages Theater.
The Distillery is located on 9th Avenue, between 52nd & 53rd, close to Times Square, Terminal 5, Broadway's theater district, Lincoln Center, and every major subway. We serve Happy Hour weekdays from 4 - 8 PM and Brunch weekends from 11 AM - 4 PM. We have handcrafted cocktails, an outstanding wine list, 24 craft beers on tap and food until 2 AM every night.
Stop by for $10 Lunch Specials weekdays from 11 AM to 3 PM, and Weekend Brunch from 11 AM - 4 PM. Our back room is perfect for parties, meetings, and private events year-round, with no room fee.
Call us at 212.767.0077 for reservations.
Like us on Facebook and follow us on Twitter and Instagram for weekly updates.
See you soon at the best family-friendly restaurant near Broadway!