The best restaurant near Terminal 5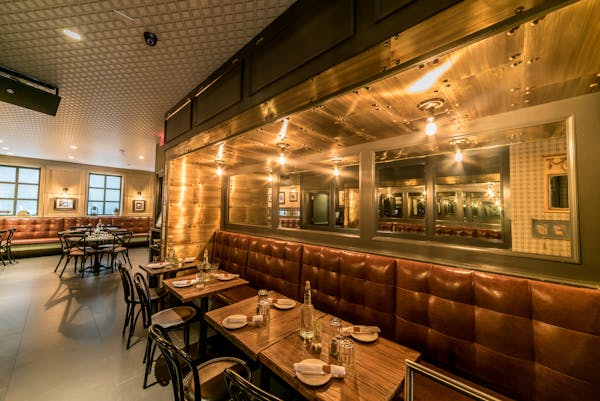 One of the top concert venues in Manhattan is Terminal 5. It often attracts shows that you can usually only see in a much bigger venue. Click here to see a calendar of events at Terminal 5.
If you read reviews of Terminal 5 on Yelp, you'll see they are a mixed bag. It's a great place to see a show, but Terminal 5 has no food, and its drinks are watered down, overpriced, and hard to get. Another complaint is that it's hard to get to.
Let us solve both of these problems for you at once.
The best subway stop for Terminal 5 is the E or C train at 50th & 8th. From there, you walk 3 minutes to the best bar near Terminal 5, The Distillery, at 785 Ninth Avenue, near 52nd St. Our dinner menu offers something for everyone: a delightful mix of mouthwatering entrees and sophisticated pub fare. We offer handcrafted cocktails, an outstanding wine list, 24 craft beers on tap, and our kitchen is open until 2 AM every night. Best of all, show us your tickets for Terminal 5 and we'll take 10% off your check!
After you enjoy all of this deliciousness, you'll have just a 6-minute walk over to Terminal 5 for the show.
The Distillery is rapidly becoming the best restaurant near Terminal 5 for food and drinks before and after the show. Join us and see why.
The Distillery is located on 9th Avenue, between 52nd & 53rd. We one of the best restaurants near Times Square, Terminal 5, Broadway's theater district, Lincoln Center, and every major subway. We serve Happy Hour weekdays from 4 - 8 PM and Brunch weekends from 11 AM - 4 PM.
Stop by for $10 Lunch Specials weekdays from 11 AM to 3 PM, and Weekend Brunch from 11 AM - 4 PM. Our back room is perfect for parties, meetings, and private events year-round, with no room fee.
Call us at 212.767.0077 for reservations.