The Best Restaurant Near the Rockefeller Center Christmas Tree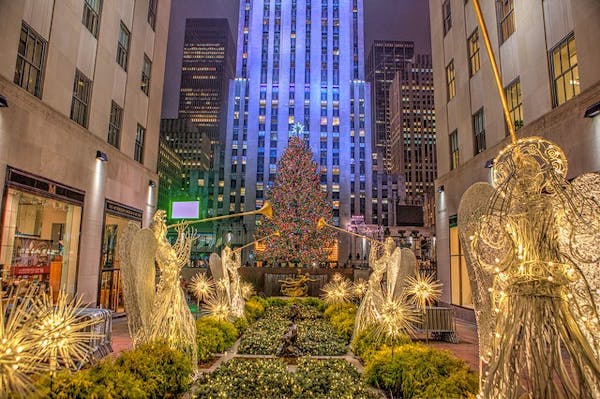 Christmas has been widely celebrated in America since the early 1800s. The works of Washington Irving and Charles Dickens, and later Thomas Nast, re-defined Christmas as a peaceful family holiday.
Since 1931, a large Christmas tree has been erected at Rockefeller Center each year. For many, it is part of the quintessential New York City experience. Though it can certainly be crowded at times, the NYPD does a masterful job with crowd control, and everyone is in a joyous, holiday mood.
But let us let you in on a secret. The restaurants near the Rockefeller Center Christmas Tree, Times Square, and other tourist hot spots tend to be uninspiring franchises of national chains, with no character or local color. But it gets worse. They have been known to drastically raise their prices during Christmas season. Ordinarily you might walk right out of a place when you open the menu and see that a hamburger and fries costs $35+ – and there's no price break for kids - but not if you waited 60 minutes to sit down!
What might be a smarter way to enjoy Christmas in New York? Go visit Radio City Music Hall, St. Patrick's Cathedral, the windows at Saks, and the Rockefeller Center Christmas Tree. Then you'll be tired, hungry and possibly cold – a perfect target for the price-gouging purveyors of mediocre fare you'll find in the first, second and third seriously crowded restaurants you find the Rockefeller Center Christmas tree.
KEEP WALKING.
Walk west, three avenues, turn north two blocks, and walk right into The Distillery, at 52nd & Ninth Avenue – it's 700 yards from the tree, and you should arrive within 8 minutes, and we'll probably have a table waiting for you – so you'll be sitting down 52 minutes earlier than you would at those places near the Christmas Tree.
Tell the host or hostess you are tired, cold and hungry, but you refuse to pay double our usual prices! We'll first warm your tired soul by telling you that we don't raise our prices for the holiday season, and then reward you for your assertiveness by discounting your check by 10% if you can prove you visited the tree that night.
What forms of proof are accepted? Be creative!
You'll then peruse our menu and decide between the Lobster Roll, Chicken Martini or Smoked Breast of Duck Salad and many other delicacies – all for a good bit less than you'd pay for a burger and fries at those other places. Your kids will be able to order what they really want off our kids menu, at modest prices.
So this Christmas, let's celebrate together a new ritual for Christmas in New York – refusing to fall prey to the price gougers near the Rockefeller Center Christmas Tree, and instead enjoying a terrific, reasonably priced meal at one of the best restaurants in Hell's Kitchen.
Call us at 212-767-0077 today to reserve your table.
The Distillery is located on 9th Avenue, between 52nd & 53rd, close to Times Square, Terminal 5, Broadway's theater district, Lincoln Center, and every major subway. We serve Happy Hour weekdays from 4 - 8 PM and Brunch weekends from 11 AM - 4 PM. We have handcrafted cocktails, an outstanding wine list, 24 craft beers on tap and food until 2 AM every night.
Stop by for $10 Lunch Specials weekdays from 11 AM to 3 PM, and Weekend Brunch from 11 AM - 4 PM. Our back room is perfect for parties, meetings, and private events year-round, with no room fee.
Call us at 212.767.0077 for reservations.
Like us on Facebook and follow us on Twitter and Instagram for weekly updates.